This article contains information on Flavia Tumusiime including her biography, age, husband, marriage, children, relationship, and news involving Andrew Kabuura and son Liam Ahabwe Kabuura.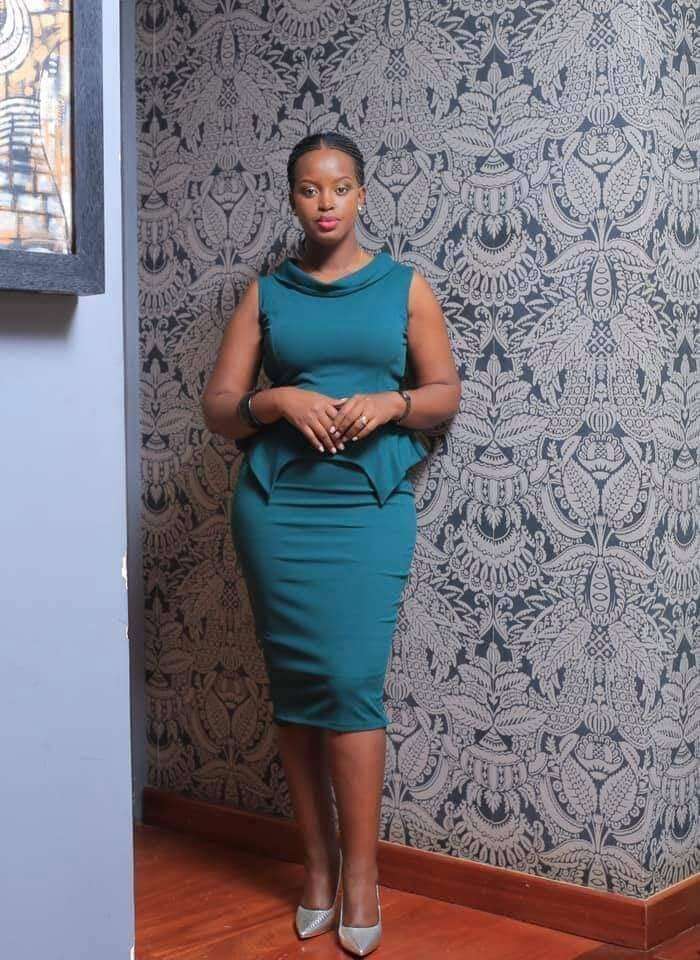 KAMPALA | LIFESTYLE UGANDA — Flavia Tumusiime is a well-known Ugandan media personality and actress. Her life and career are indeed fascinating, so let's dive into some fun facts and important details about her.
#1. Who is Flavia Tumusiime
Tumusiime is a Ugandan actress, radio and television host, emcee, and the author of The 30 Days of Flavia.
Media personality Flavia Tumusiime, 32, not only cemented her position in the industry but also became beloved by her legion of social media followers for her "inspirational success story". This makes her one of today's most likeable and entertaining celebrity figures.
As of recently, she has hosted a mid-morning show (AM-PM Show) on 91.3 Capital FM in Kampala.
#2. How old is Flavia Tumusiime?
Flavia Tumusiime is 32 years old, she was born on 11 February 1989, making her an Aquarius and celebrating her birthday every year on 11th February.
#3. Is Flavia Tumusiime married
She is married to Andrew Kabuura, who is also a media personality. Andrew is a sports journalist who reports for both Supersport and NTV Uganda.
He also hosts a sports segment on 97 FM Radio City in Kampala.
On 12th January 2019, the two tied the knot at All Saints Cathedral Nakasero in Kampala, presided over by Bishop Zac Niringiye. Their guests were welcomed at the Kampala Serena Hotel after the church ceremony.
Together, Flavia Tumusiime and Andrew Kabuura welcomed a baby boy on 4th April 2020, which happens to be Good Friday. The boy is Liam Ahabwe Kabuura.
#4. Her acting career began in 2007
Her efforts in the Ugandan entertainment industry have made her a force to reckon with. Since 2007 Flavia has been acting in films, including "Kiwaani", in which she played along with Juliana Kanyomozi as her character's niece.
From 2014 to 2016 she acted as Kamali Tenywa (lead role) on Nana Kagga's television series, Beneath The Lies – The Series and Irreversible Regret, among others.
#5. Why Flavia Tumusiime left NTV Uganda
The 32-year-old has worked as a news anchor at NTV Tonight since 2016 and was also a host on the Morning at NTV show. According to multiple sources, Flavia requested a salary increase from her bosses, however, the request was denied, hence the decision to resign.
As reported by the Howwe blog, the Nation Media bosses wanted to force her to switch from Capital FM to KFM if her salary increment demands were to be met at NTV, a sister station to KFM.
Having this condition caused her to leave NTV since she would not be able to continue earning what she was earning five years ago. However, she later cited family as a reason for her departure due to privacy concerns.
Flavia began her career at the now-defunct WBS TV (Teen Club), and later at Hot 100 radio. She now hosts the mid-morning AM to PM show on 91.3 Capital FM since 2006.
#6. Which tribe is Flavia Tumusiime
Flavia Tumusiime descends from both Rwanda and Uganda, her mother Christine Asiimwe hails from Rwanda, and her father Enoch Tumusiime is from Uganda.
From Kabale, South Western Uganda, she is the only child of Enoch and Christine.
#7. Her father died when she was young
Flavia Tumusiime's father passed away when she was 8 and her mother decided not to remarry, rather raising her only child as a single mother.
As Tumusiime tells her story, her mother is a beautiful woman who has always taken care of her, playing both the roles of a mother and father.
According to her, her father was an authoritarian man who preferred things done his way, so, after his death, her mother downsized the house and transferred her to a less expensive school than the one she attended when her father was alive.
However, before her father's death, she was distant from any of her parents, and none of them was her friends. Her mother then advised her to study hard so that one day she would be able to take care of herself and her mother.
Tumusiime says: ''every single day her mother woke up, she could see that her only hope was her and just the worry was a challenge to her because she didn't know where her mother and she were heading to, they were at crossroad and life was so hard.'
#8. She earned a bachelor's degree in International Business.
After attending St Theresa Kisubi for primary school, Flavia Tumusiime went to Kitante Hill Secondary School for her "O" level and "A" level education, then she attended Makerere University Business School and graduated with a bachelor's degree in International Business.
#9. When did Flavia Tumusiime get married?
Flavia Tumusiime and Andrew Kabuura tied the knot on the 12th of January 2019 at All Saints Cathedral Nakasero in Kampala, under the leadership of Bishop Zac Niringiye.
They then hosted their guests at the Kampala Serena Hotel.
#10. Each day, her mother gave her UGX 200/= for upkeep
Tumusiime became motivated by her mother's piece of advice to find a remedy to the miserable life they had adopted.
Her mother was forced to become the head of the family, which she had never been before. Because of that, Tumusiime became more of a protector than a burden to her mother.
While attending school, her mother would give her 200 Uganda shillings a day for upkeep, but Flavia could tell her mother not to give her the money; she always told her mother that she will try not to eat at school.
The young Tumusiime was very fearful since she only had her mother to depend on in her life, growing up and becoming a teenager, she didn't know if things would turn around one day, she didn't even realize that it was possible for her life to change.
As Tumusiime explains, 'every day when her mother woke up, she was the only hope she had, and she couldn't figure out where they were headed, they were at a crossroads and life was hard for her.'
As time went on, Tumusiime overcame her worries and grew to accept whatever life offered her.
So, Tumusiime had one thing in mind: to attend school, take care of her studies, and then after she graduated, find a job to help out herself and her mother.
#11. Her first job was at WBS TV
Her television career began when she was a teenager, she started presenting on WBS TV's Teen's club in 2002, a program she hosted with other teenagers for four years.
The 'Teen's Club' program reached many teens throughout the country.
The then 22-year-old was hired in 2010 to replace Karitas Karisimbi as the host of the K-Files show on WBS TV and in 2011, a new chapter in her life began; she became Channel O's Uganda VJ.
In her first month of employment, she was asked to co-host the annual Guinness Football Challenge Show on DSTV.
#12. She joined NTV Uganda in 2016
Tumusiime joined NTV Uganda in 2016 as an anchor of the English news bulletin NTV Tonight and began hosting a morning show Morning at NTV in 2018.
#13. Freedum Uganda named her as its face in 2006
As one of the models who took part in Freedum Uganda for Nytil Fashions, she was voted in 2006 the Face of Freedum Uganda. Next, she joined Hot 100 FM as a radio host, and later she moved to Capital FM Uganda, where she currently works.
#14. How do I follow Flavia Tumusiime on Instagram?
Flavia Tumusiime maintains a very active presence on social media. She uses the handle @Mizzflav on Twitter and Instagram.
#15. She is an author of 30 Days of Flavia
30 Days of Flavia is a collection of thirty stories about Flavia Tumusiime, the protagonist and author of the book.
Flavia Tumusiime began writing 30-Days of Flavia in August 2015 with how she received a job at 91.3 Capital FM. The stories of her personal and professional life are told in random order as Flavia explains how she received various jobs in the media and what kept her employed.
The stories were published daily on her Facebook page for 30 days, and she gave advice on how to deal with social, private, and career problems.
"The Journey", her last chapter, was published just moments before she appeared on NTV Uganda to close the stories of her life.