According to the New York City Police Department, Miss USA 2019 Cheslie Kryst died when she jumped from a building in Manhattan.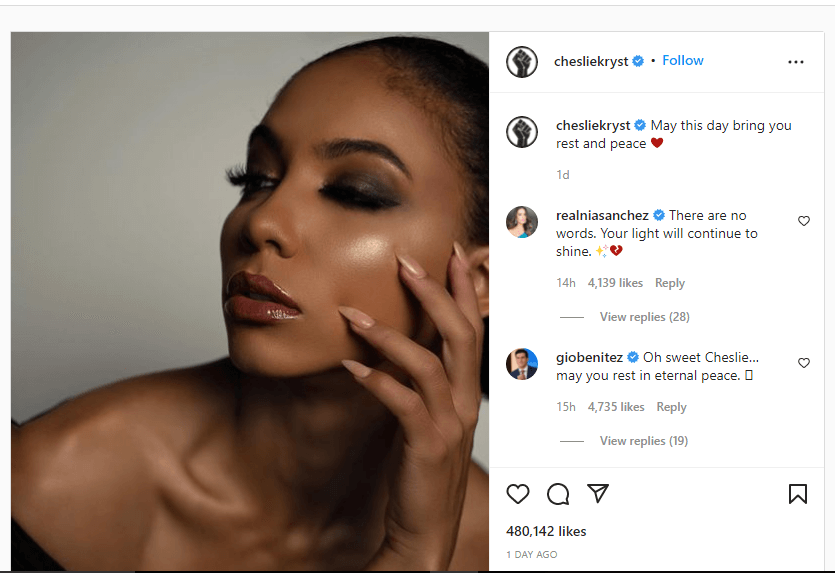 KAMPALA | LIFESTYLE UGANDA (https://lifestyleuganda.com/) — Cheslie Kryst, 30, apparently jumped from an apartment building in Manhattan and died immediately upon impact. She was confirmed dead by her family.
Police said Cheslie Kryst, 30, died after jumping from a building in Manhattan.
"May this day bring you rest and peace" was Cheslie Kryst's last words before she died.
She was a correspondent for the entertainment news show Extra and the winner of the Miss USA pageant for 2019. She was 30 years old.
"In devastation and great sorrow, we share the passing of our beloved Cheslie. Her great light was one that inspired others around the world with her beauty and strength," her family said.
"Cheslie embodied love and served others, whether through her work as an attorney fighting for social justice, as Miss USA and as a host on EXTRA. But most importantly, as a daughter, sister, friend, mentor and colleague – we know her impact will live on," her family said.
Cheslie Kryst, the former Miss USA winner, posted a photo of herself on Instagram just before she died, writing, "May this day bring you rest and peace."
In May 2019, Kryst, a former Division I athletics and North Carolina lawyer, won the Miss USA competition and competed in the Miss Universe contest.
The achievement was more than a personal triumph for Kryst, it marked the first time in history that three Black women were the reigning Miss USA, Miss Teen USA, and Miss America.
In a statement Sunday, the nationally syndicated program "Extra" described Kryst as "not just a vital part of our show, she was a beloved part of our Extra family and touched the entire staff. Our deepest condolences to all her family and friends."
At last month's Miss Universe pageant, Kryst was described as "one of the brightest, warmest, and most kind individuals that we have ever had the pleasure of knowing. We mourn her loss as a community."
Kryst holds an MBA from Wake Forest University and also played collegiately for the University of South Carolina. The school praised her for being "a woman of many talents."
Kryst's body was found on West 42nd Street in midtown Manhattan at around 7 a.m. on Sunday in front of the Orion building, a high-rise located on West 42nd Street.
Cheslie Kryst's death is mourned on Twitter.
In other news, Minister Simon Lokodo is dead, Global Music Awards Africa 2022 nominees are out, Nasdaq to list Anghami, 2022 Grammy Awards set for April, Listen to Wuuba by Pia Pounds, Wizkid heads to iHeartRadio Music Awards 2022 and NAACP Image Awards 2022 nominees are announced.
If you feel distressed and isolated, or if you struggle to cope with life, The Samaritans provide free and confidential telephone support; you can call 116 123 (UK and ROI), email jo@samaritans.org, or find details of your nearest branch on the Samaritan website.
You can call the National Suicide Prevention Helpline at 1-800-273-TALK (8255), if you are based in the US, or if you or someone you know needs mental health assistance right now. The Helpline is a 24/7, confidential crisis hotline available around the globe at www.befrienders.org.