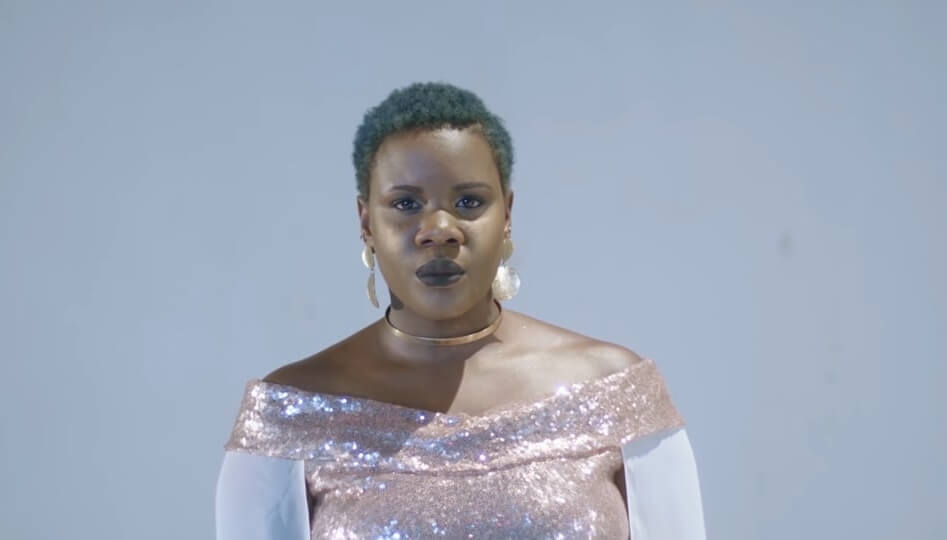 MoRoots Wears SKP by Sheba Kassami Pemba in Her 'My Woman Cries' Music Video
There are so many reasons we can't stop obsessing with Maureen Rutabingwa a.k.a MoRoots ' new music video for her super powerful song ' My Woman Cries.'
First of all, the video is a stunning production featuring a number of famous women such as Mildred Apenyo, Sandra Suubi and Solome Basuuta. And above all, there's also a lot of great fashion.
MoRoots dons a sequined SKP by Sheba Kassami Pemba dress featuring a chiffon cape and an off – the – shoulder cut in the riveting video directed by Ace Daniels.
The neo-soul singer makes the most of the cape detail almost getting off her feet because it literally gave her wings. She later changes into a lace kaftan also from the design house.
My Woman She Cries' is the second song off MoRoots upcoming album From the Sun. She took to her social platforms to share.
The song is a rallying cry for my country and the world to take a moment and pay attention to the plight of the woman.
My hope is that through these words, my woman will find a voice to confront the sources of her tears and fears, and that every time it plays on the radio or on television, people will open their eyes to the change
that needs to happen.
Sheba Kassami Pemba, the creative director of the SKP brand, couldn't help sharing how excited she was to be part of the project. She explains.
I'm always inspired by the power of women in transforming a nation, this project is just the perfect example of what happens when women choose to come together to make something happen.
The SKP brand was established with a commitment to create beautiful clothing with one of the intricate details that imbue class, elegance and sophistication.
This time, however, the brand went ahead to help MoRoots bring their creative vision to life. This was the directional debut of the singer.
Click to Watch the video.