The following article discusses Faridah Nakazibwe and includes information about her biography, age, husband, net worth, marriage, children, relationship, and news involving Bruno K, Omar Ssali, NTV Uganda, among other matters.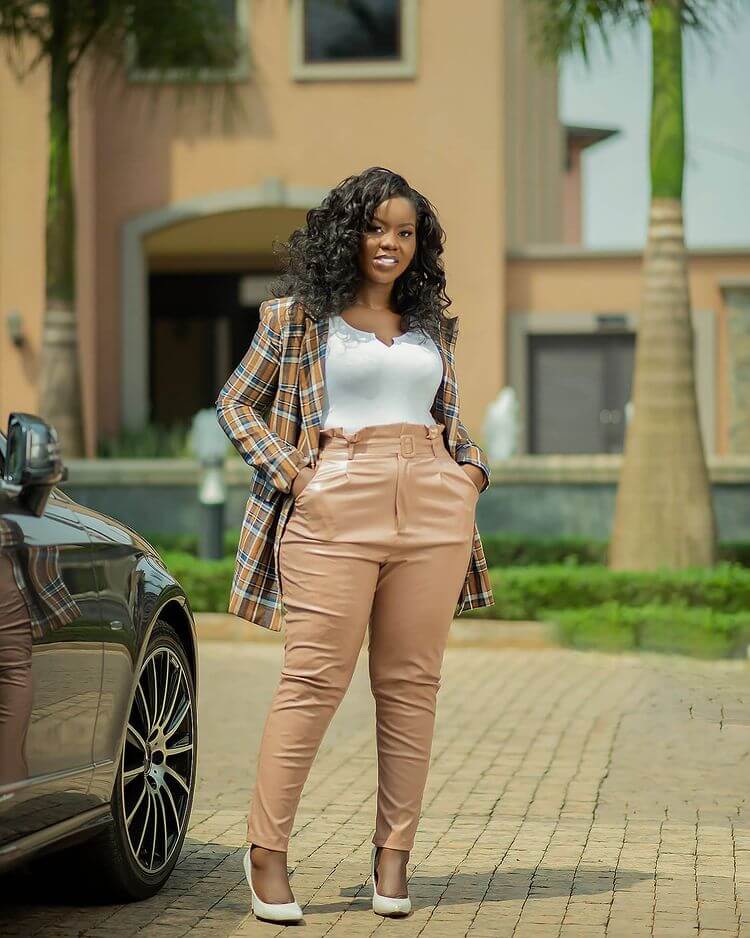 KAMPALA | LIFESTYLE UGANDA — In this article, you will find an in-depth biography about Faridah Nakazibwe, which includes everything you need to know about her, including her age, husband, biography, children, net worth, daughters, and her relationship with Bruno K and Omar Ssali.
Who is Faridah Nakazibwe?
Faridah Nakazibwe is a Ugandan journalist and entrepreneur who serves as NTV Uganda's Luganda news anchor. She also owns a line of body products called Fari Da Body Mist.
Who is the husband of Faridah Nakazibwe?
Faridah Nakazibwe was married to Omar Ssali, a Ugandan working in one of the Middle Eastern countries. Their relationship ended in 2020.
As reported by Watchdog Uganda, Nakazibwe's husband, or ex-husband, Omar Ssali, has never been a doctor, but instead a conman who came into her life to defraud her.
The Watchdog report states Ssali works at the Dubai International Airport as a luggage lifter, and he is not as rich as he had led Nakazibwe to believe, earning anywhere between Shs1.3m and Shs1.7m per month plus free shelter.
At the airport, Ssali works in the cargo department, ensuring that the luggage of clients reaches their destination in good condition.
When was Faridah Nakazibwe born?
Faridah Nakazibwe was born on 18 August 1984, so she is 37 years old.
Is Faridah Nakazibwe still married?
Faridah Nakazibwe and her husband reportedly separated in 2020, the couple got married in 2016 in a secret ceremony that took place in Dubai, but the marriage didn't last for long as Nakazibwe realized Omar Ssali wasn't after her love but rather money.
The truth about Nakazibwe's marriage problems was first revealed by Nakazibwe's former co-worker and nemesis Justine Nameere, who explained how Umar created multiple Facebook accounts to blackmail his wife into giving him money.
Is Faridah Nakazibwe in love with Bruno K?
Yes and No. In a candid talk, Bruno K recently denied rumours that he is in love with the 'Mwasuze Mutya' host Faridah Nakazibwe, and confirmed that he is only Faridah's employee, but not her boyfriend.
According to Bruno K, while appearing on a local television interview, the host Faridah Nakazibwe gave him a job teaching her daughter music, and she pays him well for the job.
"If I weren't in the entertainment industry, I would date Faridah, because she has all of the qualities that make a good partner," Bruno K confessed later.
"If I wasn't in this industry I would date Faridah because she has all the good quality," Bruno K later confessed.
She is a mother of two daughters
Faridah Nakazibwe has two daughters whose father is Engineer Dan Nankunda, whom Nakazibwe met at the lapsed WBS Television channel. Dan's was Nakazibwe's first love.
What happened to Faridah and Moses Kigongo?
During a period of less than a year, Nakazibwe became romantically involved with Al Hajji Moses Kigongo, the vice-chairperson of the ruling National Resistance Movement (NRM) political party in Uganda.
Her relationship with him ended in 2015.
Nakazibwe claims that she left the relationship when she realized that it was based on what she calls 'blind love'.
WBS Television employed her as a reporter
In her early career, Faridah Nakazibwe was hired as a reporter by the now-defunct WBS Television, and two years later transferred to NTV Uganda, where she became the anchor of the evening show "Luganda News."
She studied Mass Communication at IUIU
The 37-year-old Nakazibwe studied at Taibah High School in Kawempe, Kampala, obtaining her High School diploma. She then attended the Islamic University in Uganda in Mbale, in the County's Eastern Region, earning a Bachelor of Mass Communication degree.
Faridah is the second child in a family of eight
Faridah Nakazibwe was born in the area that is now Sembabule District, to Hajj Shakib Ssenyonjo and Hajat Sarah Ssenyonjo, as the second of eight children in the family.
She was the second of seven children in her family, and the only girl. Her parents were extremely protective of her and her siblings.
Faridah Nakazibwe says she left home alone for the first time at 18 years after her senior six.
Nakazibwe worked as a waitress after university
Nakazibwe worked as a waitress for a month after she graduated from University. She then joined WBS Television in 2006, a local network that no longer exists.
Her first experience in broadcasting on television, Nakazibwe says, was a challenging one because of the idea that her voice wasn't appropriate for TV, that she needed to do much more to qualify.
"The first shot I got was with WBS TV when I was still at University, but I was disappointed to be told that my voice wasn't suitable for the show. They said I still had a lot to learn, but "we shall give you a chance.".
"I was at University when I got my first shot at WBS TV. My voice was not interesting enough for television. They said that I still had a long way to go, but "we shall give you an opportunity."
Her parents preferred fashion over TV
The possibility of working on TV wasn't Nakazibwe's career plan in the early days. Rather, her parents believed she would be a fashion artist or something along those lines, simply because she loved dressing up and beautifying herself.
However, destiny led her to journalism.
"I took a close look at all the options in journalism, and when we used the camera at university, I found that I felt a sense of freedom. Someone even told me that camera is good for you."
"I looked at all the options in journalism and the times we used the camera at University, I realised I felt at ease in front of it. Then someone said that you look good in front of the camera."
'Faridah body mist' is her line of fragrances
Along with her TV career, Faridah Nakazibwe is a businesswoman who specializes in body fragrances called 'Faridah body mist'.
The project was announced some time ago via social media saying that she has finally developed her own body mist products and they are now available for sale.
Faridah Nakazibwe is Chipper Cash's new ambassador
About three years ago, Ham Serunjogi, a Ugandan based in the United States, and Ghanaian colleague Maijid Moujaled established Chipper Cash, an online cross-border money transfer service.
Then on Wednesday, April 21, Chipper Cash, the largest mobile financial transfer platform on the African continent, unveiled NTV News Anchor Faridah Nakazibwe as a brand influencer.
"It's an honour to be working with Chipper Cash, I have worked with many brands and one thing that makes me stand out is that I'm an influencer at heart, and I'm delighted to share what I know with Chipper Cash," Nakazibwe said.
I'm honoured to be working with Chipper Cash, I've worked with a number of brands and one thing I'm known for is my natural influence. I'm eager to bring what I know to Chipper Cash," Nakazibwe said.
Is Faridah Nakazibwe on Instagram?
Faridah Nakazibwe is known as @fsnakazibwe18 on Instagram.
Is Faridah Nakazibwe worth $1 million in 2023?
Since Faridah Nakazibwe keeps most of her business and personal finances under wraps, not too much is known about her net worth, however, it has been speculated that it is around UGX 100 million.