In 2020, Ugandan singer Azawi broke onto the music scene with her extended play (EP), LoFit, and now she has returned with 'African Music', a 16 track collection.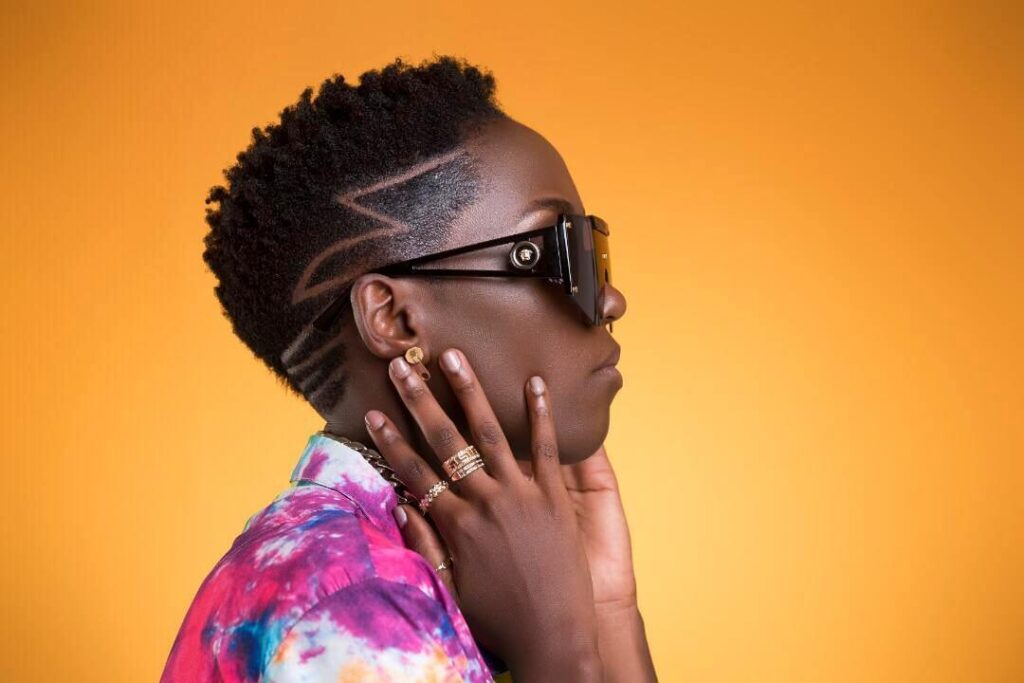 KAMPALA | LIFESTYLE UGANDA (https://lifestyleuganda.com/) — Azawi, a fast-rising Ugandan musician, debuted in 2020 with her extended play (EP), 'LoFit', and is out with her debut album, 'African Music', featuring 16 tracks.
Watch 'The Making of African Music' album by Azawi now on YouTube.
Then Ayo Lizer, Diamond Platnumz's producer, Azawi said he is an amazing producer.
Afterwards, Azawi spoke about Kuseim, stating that he set the tone for the album.
Check out the new Azawi song, 'Nkuchekele' featuring Eddy Kenzo.
Azawi's instant success with her debut EP 'LoFit' with songs like Lo Fit, Crazy Love, Mbinyumirwa, Repeat It and Quinamino has led to her being called one of the biggest acts of our generation.
In a mini-documentary on YouTube today titled 'The Making of African Music,' album Azawi explained that the process has taken so long because the artist is very particular about the smallest details others might overlook.
How it started
She released 'My Year' as the first single from her upcoming album, 'African Music', due to be released on 9th October.
In comparison to her previous releases, 'My Year' is a very different sound from what Azawi has been releasing. It was produced by Michael Fingers and was written by herself.
'My Year' was planned under the assumption that 2021 would be the year in which we would rebound from the devastating pandemic of 2020, reclaim the space we used to enjoy as a country." Azawi said.
"releasing the song my year, for me was like an affirmation that things were gonna change and I'm still grateful because a lot has happened that I'm grateful for. i have managed to record a lot of content a lot of music like it has been a time to slow things down and look at everything in a bigger perspective like process things in a slow way like not rushing. i must say I have done a couple of things in 2021 that i'm grateful for."
"i'm grateful to God for that because no cars were allowed on the road like you couldn't do anything but we managed to trek with my producer to the studio and we recorded a couple of songs. At some times we couldn't even go back because that would mean we would violate the curfew so we ended up like working overnight."
She added:
"My 2021 is still a year that i'm grateful for that is why I released the song my year, of course, a lot of controversies memes and throws were running around it but to me still the song was doing well because people gave it more attention."
"They actually resonated with this song because yes we were having a tough time but we couldn't keep on crying at some point you have to move on despite what you're going through and people started like connecting with the song taking the message and somehow I believed something about their life changed in 2021."
Working on the album 'African music'
In talking about her album 'African music,' Azawi mentioned that working with Michael Fingers, a very special producer with a very unique ear, exposed her to so much talent.
"working on African music the album exposed me to amazing talent Michael Fingers, he's a very special producer with a very unique ear working with him. opened my eyes to a lot of things."
Azawi also mentioned Diamond Platnumz's producer, Ayo Lizer, as a very talented and amazing producer.
When it came to Steven Kigozi alias Steve Keys, the 32-year-old talented musician, Azawi said he is new to production, but he grasped it so quickly, and he is really doing well.
"And Steve Keys is really new to production but I'm really amazed at how he got the game so quickly and he's really doing so good."
Then, when it came to music producer Kuseim, Azawi said that he set the tone for the album.
"And my man Kuseim, i love that guy. he set the tone for the album and working with him, Kusseim understands my frequency so well, i feel like that is why we've been able to do a lot of music he set the tone for the album."
In talking about Benon, Azawi said that he is a perfectionist, but it is really great to have someone who wants to constantly be on point.
"I also got to work with the legendary Benon Mugumbya. At some point, I feel like he's a perfectionist but it is really very good like he wants things to be on point."
"Working with him made me realize that we should always be conscious about what we produce, how we do stuff when we're working in the studio. I got the opportunity to work with him we have a song together. can't wait for you to hear it was such an amazing experience."
Executive producers of the 'African Music' album are Benon Mugumbya and Julius Kyazze, co-owners and CEOs of Uganda's biggest record company, Swangz Avenue.
What Benon said
Benon: "Azawi is really what you would call the quintessential musician if such a thing exists in art. she's super passionate about what she does, pays attention to detail, super hungry and really that gives you the morale and the drive to make sure you facilitate the dream."
He added: "we as a record label and the management we make sure we facilitate the dream and really be part of the history of her journey I can't wait to hear the reactions and the remarks about this album African music."
What Kyazze said
Kyazze: "working with an artist like azawi is a dream for an executive producer she's extremely talented she's dedicated to our work, and you could tell we are able to record so many songs she managed to record so many songs in a very short time."
"And we are very very excited that the album she's been able to present to our fans it's going to be a very enjoyable piece of art to consume for the fans"
'African Music' album describes Azawi as a musician
Azawi says being in traditional African dance groups exposed her to the rich content of African sounds and rhythms; therefore the content on this album is a collection of her life experiences.
She said: "What I can say is the content on this album is a collection of my life experiences as a person at my journey from where I started to where I am today"
"Sometimes people ask me like how do you create, I can only relate it with love if I don't fall in love with whatever I'm creating then it won't be out. I have to first have that chemistry with the track. sometimes I just listen to the track understand how what it's trying to say to me is the melody going to my brain or the melody is going straight to my heart at least something hits my heart straight then there's immediate chemistry."
She added:
"for me, I always have to feel it. like I have to feel it like before I even put words on it I have to just feel it. if I have the melody, if I'm connecting with the track, the words can fall in easily. so my creation process has to be a time to make love with a song to make love with the track"
"I'm grateful that so far I've made love to a lot of tracks so it is always like a nice time when I'm creating and when I find someone who understands my frequency when I'm creating then it is always magic"
You should love me for what I am, Azawi says
"I'm a person that really wants to be known for my music I want that to speak for me like all the time I don't want anything else to obstruct my strength of an artist of being a singer, being a writer."
Azawi added that: "I want people to appreciate me for that, to accept me for that, not for any other reason but for my music because that is what I'm selling that is what I love to do that is my happy place."
"I hope that people get to resonate with my music. I hope that people get to connect with what I create because we shouldn't let anybody out there to tell our story as Africans. We should always tell our truth like don't let anybody else tell something different we should be proud of who we are and I hope that the music on this album African music relates to your stories relates to what you're trying to speak out as an African."
In preparation for its debut on 9th October 2021, the 'African Music' album is now available for pre-order on streaming and digital services worldwide.