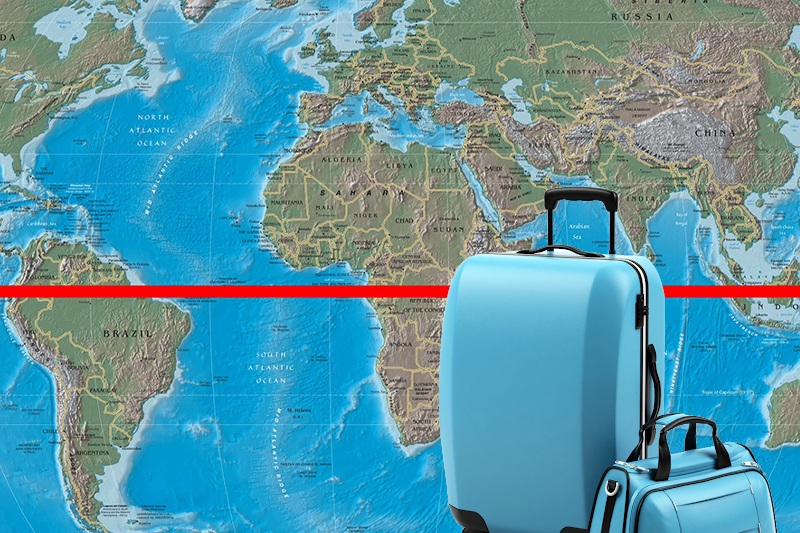 Here are some tips on how to pack for a trip to the equator
If you're tired of the cold, gray weather in the North, perhaps it's time to take a trip down South to the equator.
But before you start grabbing all your tank tops and shorts, keep in mind that if you have fair skin, you're going to need some sunblock. We're not talking about 20 SPF sunscreen either.
No, we're talking rash guards, hats, SPF 50 sunscreen, and board shorts. Here are some tips on how to pack for a trip to the equator.
Hats and Sunglasses
If sunscreen makes you physically sick, hats and sunglasses are needed to protect your face and eyes. And your ears! Get a soft, wide-brim hat that is made out of quick-dry material.
You want to be able to fold the hat up in your luggage without it taking up too much space.
Long-sleeves
This may sound crazy, but the sun at the equator is at a much higher intensity than the sun in New York or Chicago. While sunscreen might work if you're out for an hour or so, make sure you wear a long-sleeved shirt for day trips.
Whether you're hiking or going out on a boat or biking, your arms will burn without proper coverage. Rash guards used by surfers are lightweight, breathable, quick-dry, and offer SPF protection.
Board shorts
If you're biking, guess what sits under the sun for hours at a time? The top of your thighs. Pack board shorts to protect your legs.
If you're biking, the breeze can make it difficult for you to tell that your thighs are cooking under the sun. That's true until you crawl into bed at night and realize that the next morning you're going to be in some pain.
So cover the top of your thighs and put lots of sunscreen on your knees.
Sunscreen
It's better to buy sunscreen at your destination so you don't have to deal with the liquid restrictions of TSA and airlines. Sunscreen works best if you put it on 30 minutes before leaving the hotel.
Take some with you and reapply every 2 hours or after swimming. If sunscreen all over your body makes you sick, then just apply sunscreen to the parts that your clothes aren't covering, like the tops of your feet.
This forgotten part of the body burns easily and hurts like crazy.
Hydration
Bring your own reusable water bottle so that you're not constantly looking for shops and markets to buy bottled water. You can fill it up at your hotel and at restaurants.
Also, make sure to see if the tap water is potable where you'll be going. The last thing you want is to come down with a case of vacation diarrhoea.
Bathing Suit
Wear a bathing suit underneath all your layers because when you finally reach the beach after that long hike or bike ride, you'll want to have some fun! So strip down and jump into the water!