Spice Diana, the singer from Uganda, could not contain her excitement when she landed on a video that showed artwork of her song "Body" on a Times Square billboard.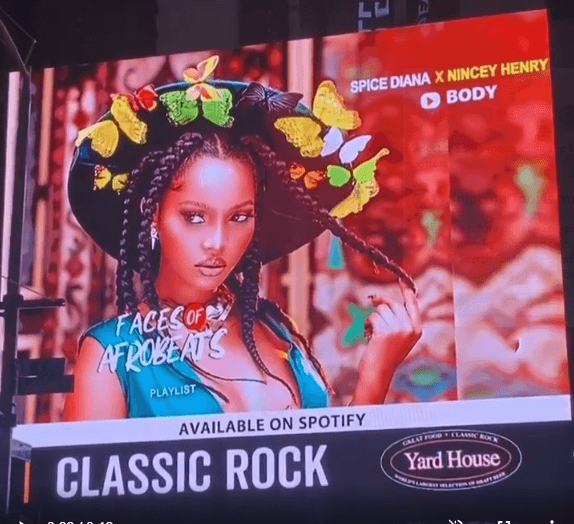 KAMPALA | LIFESTYLE UGANDA ( https://lifestyleuganda.com/) — Spice Diana, the Ugandan singer whose song "Body" adorns a billboard in New York Times Square, couldn't hide her excitement upon landing on a video featuring the song's artwork.
The Ugandan musician joins Bobi Wine, Azawi, and Eddy Kenzo as a few other Ugandan artists to have their music projects featured on the New York Times Square.
As for Azawi, she hit the Times Square billboard as a part of YouTube's #YouTubeBlack Voice Music Class of 2022, along with three African artists including Omah Lay and C Kay, who represent their continent on the show.
Similarly to Azawi, Spice Diana and Nince Henry's collaboration "Body" released last year is the latest to hit that milestone. The track now appears on a Times Square billboard following its inclusion on Spotify's "Faces of Afrobeats" playlist.
The artwork for "Body" appeared on Times Square in a video posted by Prime Music Partner, a publishing and distribution company based in New York.
Spice Diana was overjoyed when she landed on the video and immediately shared the good news with her fans. In her caption, she wrote, "Waking up to some good news. My country people, we at Times Square."
What makes Times Square so popular?
Times Square is so popular due to a large number of theatres along Broadway, in Lincoln Center, and in the Theater District. You can watch award-winning plays and musicals all year long.
The area is busiest during New Year's Eve celebrations.