2020 UCE results have been released by the Uganda National Examinations Board. Below you can find various ways in which you can access the 2020 UCE results.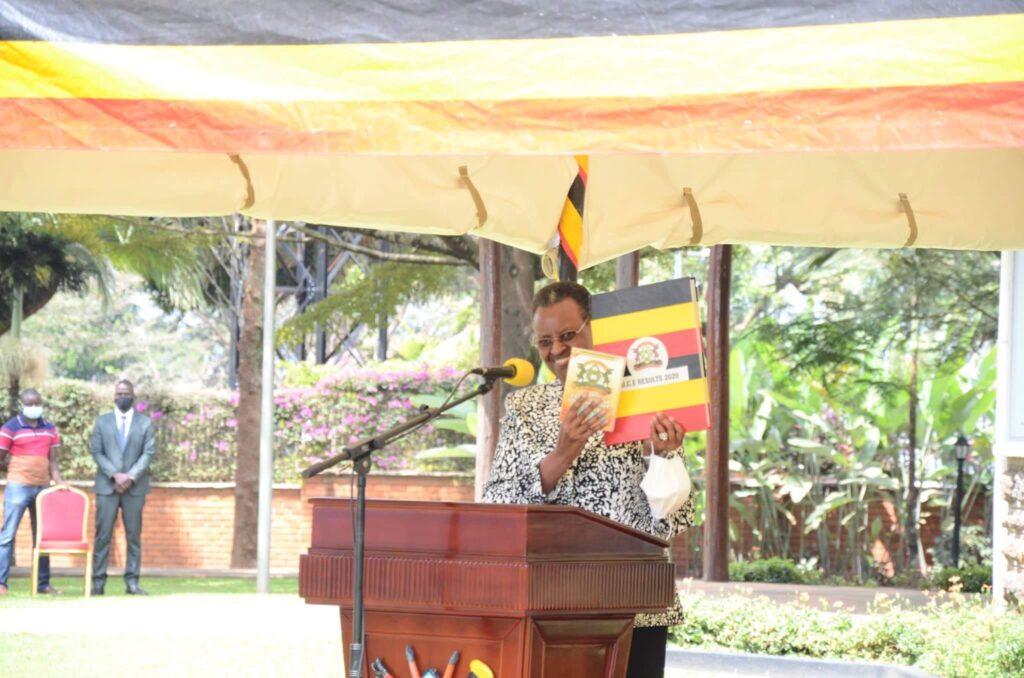 KAMPALA | LIFESTYLE UGANDA — Results for the 2020 Uganda Certificate of Education (UCE) were released on Friday by the Uganda National Examination Board (UNEB) and Ministry of Education and Sports.
Janet Kataha Museveni, the First Lady and Minister of Education and Sports presided over the ceremony at State House Nakasero.
From 337,720 in 2019 to 333,396 in 2020, UNEB reported a decrease in candidature of 4,324 (-1.3%), of which 148,128 (44.4%) were USE recipients.
There are 166,744 male candidates registered (50.01%) while there are 166,652 female candidates registered (49.99%), a difference of only 92 more males than females.
The number of female candidates in 2019 surpassed that of male candidates by 398.
Compared to 333,060 candidates in 2019, 330,592 candidates (165,251 males and 165,341 females) sat for the examination in 2020.
The number of females who sat exceeded the number of males by 90 candidates, and the number of candidates dropped by 2,468 (-0.7%).
Checking 2020 UCE results via SMS/Online
Following the official release of the 2020 UCE results by the Uganda National Examinations Board, you can now access the results online using the following options.
Candidates, parents, and interested parties may obtain results instantly through Short Message Services (SMS) on mobile telecommunication networks.
UNEB says that after results are officially released, school administrators will be able to download them from their examination centre portals.
"Until conditions permit, UNEB offices will not have hard copies of the results for now."
The process is to type in the UCE <Space> Full Index Number of the candidate, for example, U0001/008, and send it to 6600 on any mobile phone network, as instructions from UNEB stated.
Send the UCE index number for any candidate to 6600 and you will get their 2020 UCE results in a few simple steps. In your message box, type UCE <space> INDEX NUMBER, and you will get their results.
If you want to view the results for the candidate whose index number is U1016/001, you can type UCE U1016/001 AND SEND TO 6600 in your message box.
The user will then receive his/her registration details or results directly. SMS messages will be sent to you at a cost of UGX 500 per candidate.
In order to check 2020 UCE results online, open a web browser and type or click https://ereg.uneb.ac.ug/eresults/ in the address bar.
Enter the candidate's Index Number in the form and click SEARCH. The results of the candidate's search will appear.
A few days ago, the UNEB blocked online access to Primary Leaving Examinations (PLE) 2020 results after facing pressure from telecom companies MTN Uganda and Airtel Uganda which were contracted to notify students of results by mobile SMS.
To this end, UNEB advised parents and their children to utilize SMS services on mobile networks that would deliver results to their handsets immediately.