Swangz Avenue, a Ugandan audio and film production house, announced the signing of Zafaran, real name Josephine Nakyoonyi, to their roster of singers.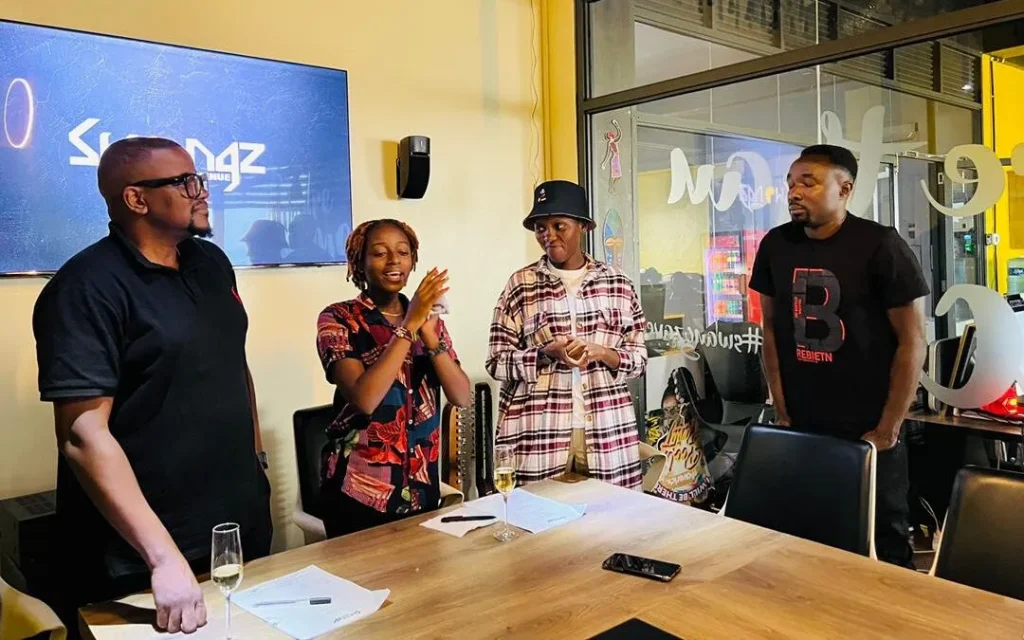 KAMPALA | LIFESTYLE UGANDA (https://lifestyleuganda.com/) — Swangz Avenue, a Ugandan audio and film production house, recently announced the signing of Zafaran, the real name Josephine Nakyoonyi, to the list of singers it represents.
Meet Zafaran, a talented new talent Swangz Avenue has just signed.
Zafaran is seen at the Swangz Avenue offices signing her contract with lawyers.
Azawi welcomed Zafaran by tweeting: "Welcome to the family, @Iam_Zafaran.".
According to images posted to social media, Twitter, in particular, singer Zafaran is seen signing her contract at the Swangz Avenue offices in Industrial Area with lawyers.
Zafaran confirmed the news on Twitter and referred to herself as a "Performing Artist signed to African Premier Record Label @Swangz_Avenue". Swangz Avenue tweeted: "Ladies and Gentlemen, Introducing @Iam_Zafaran"
Fellow singer Azawi welcomed Zafaran to the family in a tweet, writing: "Welcome to the family, @Iam_Zafaran.".
However, the details of the contract haven't been disclosed, but it is believed to be a long-term recording deal.
Zafaran is not a new face in Uganda's music industry, as she recently backed up artists such as King Saha and Jose Chameleone in the highly successful Tusker Malt ConverSessions produced by Swangz Avenue.
Does Zafaran have any new songs?
Although details about Zafaran are still scarce, one thing to keep an eye out for is her bubbly sense of style that she displayed as a backup vocalist on Tusker Malt ConverSessions where she stands out with colour-blocking and a dash of well-tailored suits.
During her reveal video, there's something that might be her song playing in the background.
Swangz Avenue has not elaborated on the release of her music, or how long it will take before we get to hear her.
Zafaran joins a number of female star artists managed by Swangz, including Winnie Nwagi, whose contract was renewed last year, Vinka, affiliated with Sony but managed by Swangz, and award-winning artist Azawi.
Swangz Avenue manager Benon Mugumbya stated in a recent interview that the label intends to keep all its artists and add a few more.
In other news, See Zzina Awards 2022 nominees, Traci Braxton is dead, Jussie Smollett jailed, Nadia Mukami is pregnant, DJ Dimplez has passed away, Omah Lay releases 'Attention', Abramovich confirms Chelsea is for sale, the Headies are back, check out the 2022 NAACP winners list, Gaetano Jjuko Kagwa's biography is here, Rapper Riky Rick is dead, Pastor Ezekiel Atang is dead, UK music entrepreneur Jamal Edwards dies at 31, Idols SA Season 18 returns, Burna Boy Joins Boomplay, check out 3Music Awards 2022 nominees, Rema drops "Calm Down" and 2022 Oscar nominations announced.