Sauti Sol, an award-winning Kenyan boy band, has agreed to represent Infinix in the country as an ambassador, making them the first band associated with the brand in the country.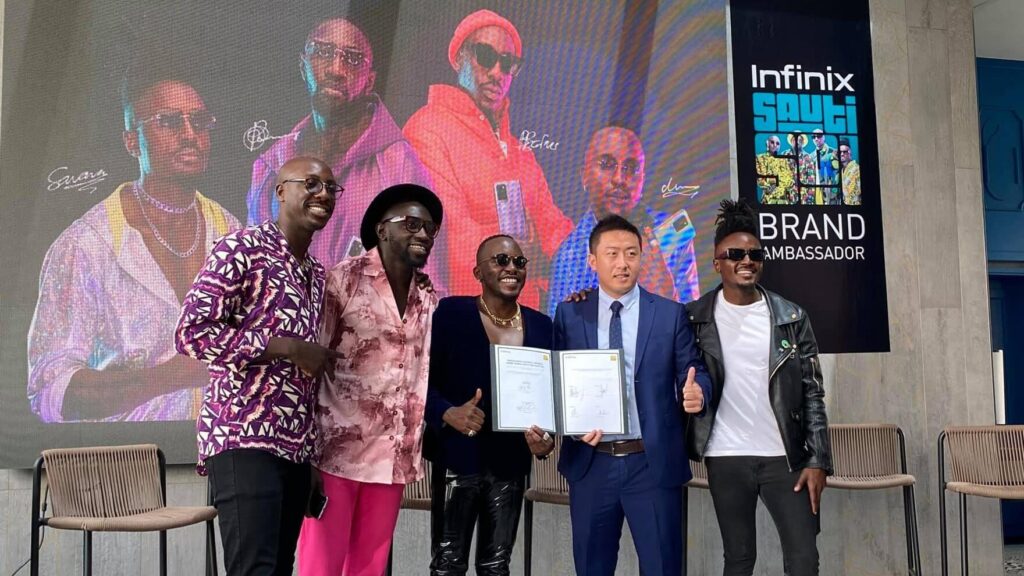 KAMPALA | LIFESTYLE UGANDA — Sauti Sol, the Kenyan boy band, has signed an ambassadorial deal with Hong Kong-based smartphone company Infinix, making it the first music act in the country to be associated with the brand.
Sauti Sol, a Kenyan boy band, is named an Infinix ambassador.
Sauti Sol wrote on Instagram: "I'm stoked to be Infinix's newest brand ambassador.
Visit the Lifestyle Uganda homepage for more stories like this.
Sauti Sol is required to promote the upcoming Infinix Note 10 smartphone, which will be released in Kenya on 16 June.
Infinix said, "We are proud to introduce the new addition to our family and our first official brand ambassador, Sauti Sol."
"We believe that as a young-centered brand, they embody why young people should learn to overcome challenges regardless of what they face."
On Instagram, Sauti Sol said: "We're thrilled to join the Infinix family as their first authorized brand ambassadors."
Sauti Sol previously partnered with Chrome Vodka, Coca-Cola, and Safaricom, and this partnership marks the latest partnership between corporates and East African recording artists.
Diamond Platnumz, a Tanzanian musician, was named brand ambassador for Chinese cellphone manufacturer Itel Mobile in February. One month later, Kenyan artist Femi One signed a deal with Monster Energy to become the first African female artist to work with the energy drink company.
In February last year, Sauti Sol was signed to Universal Music Africa and released the debut album Midnight Train. They were also named among the #YouTubeBlack Voices Fund recipients.
Towards uplifting and growing black artists and creators, YouTube's Black Voices Fund will assist 23 content creators in Kenya, South Africa, and Nigeria.
YouTube's Black Voices Fund supports black content creators and artists globally and has raised USD 100 million for the cause, including money to support African artists.
It was announced by YouTube in June last year, shortly after the murder of George Floyd sparked worldwide protests that sparked the Black Lives Matter movement.
YouTube's vice president of content partnerships Malik Ducard said in a blog post in October that the fund would be used for producing YouTube Original programming that focuses on black experiences worldwide and provides direct support to black creators and artists.
As of early this year, the band became the first local act in Kenya to appear on a Times Square billboard.